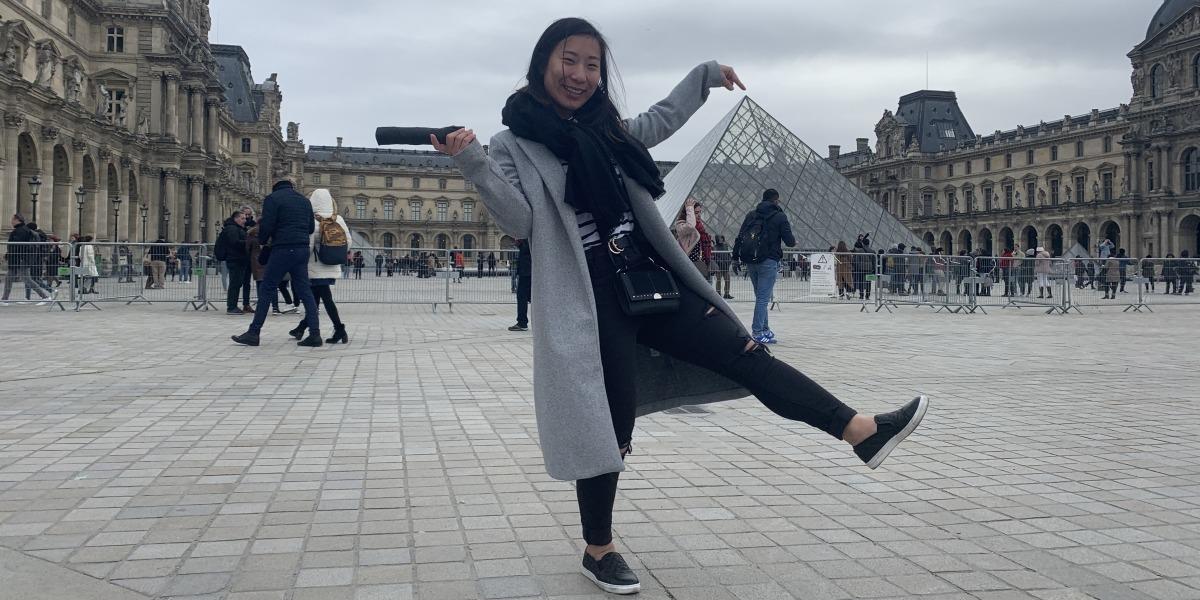 Using several programs under the Office of International Affairs as stepping stones to engage with her immediate international community, Angie Lee found friends, leadership and growth that characterized her undergraduate student experience. 
Lee, who graduated from the University of Maryland in May 2021 with a degree in Bioengineering, first engaged in global learning while participating in the Clark-in-Madrid study abroad program in Spring 2020. When her study abroad experience was cut short by the COVID-19 pandemic, Lee realized her enthusiasm and desire to be surrounded by cultural and linguistic diversity.
"I think, when I came back, there was a really pivotal moment because I really realized I love learning [about] cultures," she said. "When I went abroad, I think I really opened my eyes to the cultural differences [and the] importance of that, along with the privilege I have of being an American, like a native [English] speaker."
That summer, Lee began to explore local and virtual opportunities to engage with those of different backgrounds and cultures. She applied for International Orientation Leaders (IOL), an International Student & Scholar Services (ISSS) program in which current students help welcome and integrate new international students to the UMD community.
"I remember looking at stuff, you know, doing schoolwork, trying to figure out like senior year… what I want to do, like, work-wise. But I think I saw an email for IOL with ISSS and I thought about it," she explained. "I was like, [IOL] would be a great opportunity just because again, it has that global diversity [and] interaction with other students who are isolated, too."
During her year in the IOL program, Lee heard about another ISSS program called English Conversation Partners (ECP), where she was again able to facilitate conversations while expanding her cultural and lingual knowledge through engaging with participants. For ten weeks of the semester, ECP participants meet with an English-speaking facilitator and are able to discuss various topics and other activities planned by the facilitator. Apart from helping others practice English, Lee was able to learn from her English-learning peers through facilitating, too. 
"I thought about when I was in Spain–I really wanted to speak Spanish but it was really hard for me to practice and learn it because I didn't have anyone to practice with," she said. "And so I thought [ECP] was a great opportunity. Just having that individual [to] speak to, to practice [and] learn, like, colloquial slang."
Consistently participating in icebreaker activities sparked familiarity, warmth and unique connection at a time when many of them felt isolated and eager to make friends, Lee explained. Her favorite thing about ECP, she said, was the level of comfort her group achieved over the course of the semester, even in a virtual environment. 
"There's a point in the semester where you realize like everyone's actually comfortable with each other," she explained. "It's not awkward, and some people are maybe talking over each other and they're laughing… and you're like, 'Oh, wait, that's really cool.'" 
Though initially joining for the social element, Lee emphasized the professional value of serving as a leader in these programs, giving presentations and facilitating relationships between a culturally diverse group of people. 
"It was great because when I was presenting to a lot of international students, I had to learn how to think on the fly," she said. "To learn how to best utilize and facilitate a meeting to kind of gauge people's nonverbal communication. When you do ECP… everyone speaks a different language. Everyone might have different, like, cultural cadences… and so when you facilitate it, you learn to facilitate conversations." 
Now working in cyber-auditing at Deloitte in Washington, D.C., Lee explained how the skills she developed as an IOL have improved her familiarity when speaking with clients. 
"Sometimes you have to remind yourself and pick up the perspective of whoever you're presenting to–or whoever your client is," she said. "Those are all skills that are very tangible, or work when you present with either clients or even, like, your coworkers."
While jumping into leadership roles with programs like IOL and ECP was a leap for her, Lee encourages students across campus to take the same chance. 
"Everyone's super nice and super eager and like, why wouldn't you want to meet someone who has a different background with a perspective you can learn from?" she said. "It's one of those things where, like, you don't know unless you try it."