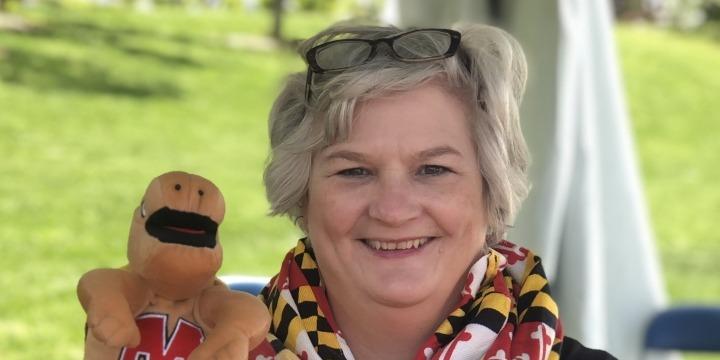 A 23-year veteran of the Office of International Affairs (OIA) in the International Student & Scholar Services (ISSS) department, Jody Heckman-Bose's office is warm and inviting, filled with art prints and natural light. Well-traveled and instinctively kind, it's no surprise that she's found a home in this position on the University of Maryland (UMD) campus.
Her tenure in ISSS has led Jody to form deep connections with the students she works with, and she speaks highly of their bravery and commitment to a long term goal. For graduate and Ph.D. students, she sometimes works with students for as long as 10 years at the university. Her work ranges from helping students set up Social Security Numbers, drivers licenses, and assisting with F-1 or J-1 visas. She is the touchpoint for pre-departure, arrival, and departure. What began as a conversation about her career serving as the Associate Director of International Student Services quickly revealed a very real human need for connection felt by the international student community here at UMD. 
This discussion begins by acknowledging what exactly it is students have to sacrifice to pursue a higher education here. That includes giving up a language they're proficient in, a culture they're familiar with, major holidays that aren't recognized, and their lifelong personal support systems. 
"I've been here for going on 23 years, so I say that I'll retire when I'm no longer in awe of what international students do to come here. I studied abroad, but I never did a degree abroad and that's another level of commitment," said Jody Heckman-Bose. 
Being away from home means that international students have to find and build community where they are, but at a big school like UMD, that can sometimes prove extremely challenging. Anyone who's been abroad can empathize to some degree about the highs and lows of finding your place overseas. Jody herself went abroad to Nepal, and made a connection with a local family during her stay. Twenty-five years later, their daughter moved to the United States; she joins Jody and her family every year for Thanksgiving. These small acts of kindness have rippling effects that can extend for decades, and it's unfortunate that more international students don't get this opportunity in the U.S. 
"One thing that makes me so sad is that research shows that many of our international students never get to go to a U.S. home. Can you imagine going to another country, living there for years, and never stepping into a home?" said Jody.
When asked what we can do to be better allies to the international student community, the answer was simple: ask them their story, and extend an invitation. Look around your group and see who's missing! The desire for connection and relationships is not something that is unique to international students. Taking the first step and reaching out is filled with positive possibilities.  And it's not just personal relationships that benefit from the presence of international students.
While 35% of the UMD graduate student population in Fall 2022 are international, only 4% of undergraduates are, and finding community abroad becomes even more challenging. The numbers don't favor diversity in undergrad, and it can be easy to remain in the homogenous groups that tend to form there. However, the perspective that international students bring to classrooms and learning is priceless. 
"Their experiences, in terms of adding to the discussions in classrooms, cannot be replicated with a book or a video or a reading. You really need those voices in the classroom aiding in the discussion and pushing the boundaries," said Jody.
Last spring, President Pines announced the university's new strategic plan, Fearlessly Forward, which highlights a commitment to diversity and inclusion as it seeks to address the world's grand challenges, and to support the success and wellbeing of people and communities. This work begins by celebrating the value our diverse international community contributes to UMD's vibrance and excellence, and providing them adequate support to excel in their endeavors.
For Jody, these factors directly contributed to the creation of "Joe with Jody". Think of it as her office hours. Every Monday students can stop by to chat about school, life, or anything else that's on their mind. The attendance numbers are small but mighty, and she spoke highly of one student who comes every week. It's clear that Jody deeply values the students she works with, and feels lucky to be in this field. 
"I love working with international students but I also love working on a college campus. There's nothing like being a part of a mission that is a mission of growth." said Jody. 
All of us at this university are at a unique point in our lives that is centered in the opportunity to become the most realized version of ourselves. There is so much to learn from the people we surround ourselves with. Consider asking yourself, what role can you play in changing someone's life for the better? And especially, what can you learn about the world from the people around you?
If you're interested in jumpstarting your own global learning, making new relationships with international students, and connecting with cultures outside of your own, International Education Week is an excellent place to start. Taking place November 14-18, this annual event celebrates the importance of this cross-cultural exchange through numerous events ranging from global internship workshops, film screenings, and more. With a strong emphasis on Global Dialogues, many aspects of this year's IEW celebration echo Jody's sentiments, highlighting humanity's interconnectedness and the importance of global collaboration and connection for addressing the grand challenges of our time. During the Around the Globe International Fair (Nov. 15, 3-6 p.m.) and International Coffee Hour (Thursdays, 2:30-3:30 p.m.) the UMD campus community can get to know our international students better and celebrate their cultures. The work to move Fearlessly Forward begins with showing up for our diverse, multicultural community, on campus and beyond.