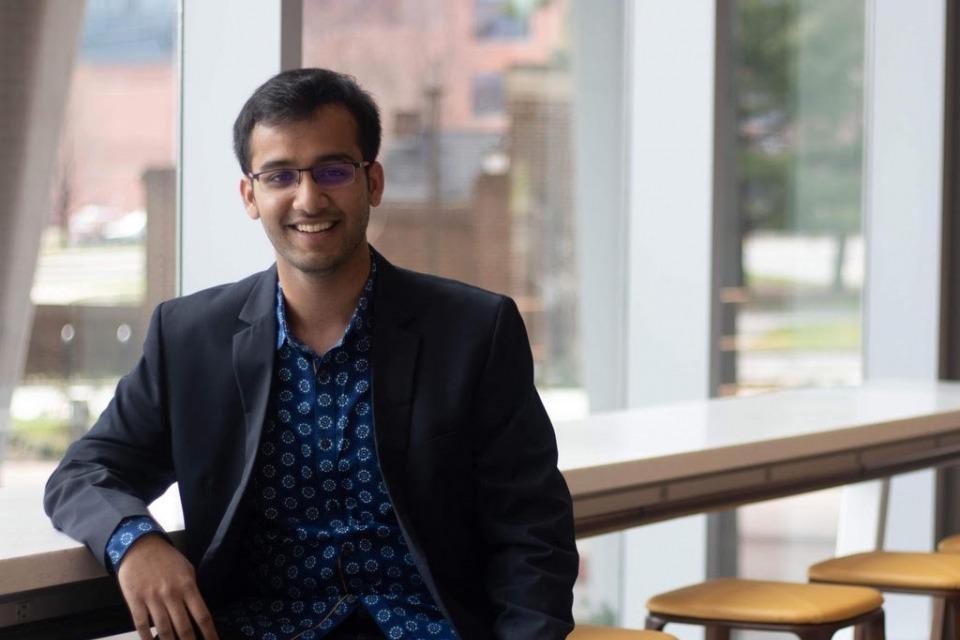 Kislay Parashar became involved in student leadership at the University of Maryland as soon as he stepped foot in the U.S., becoming the Student Government Association's international student representative at the start of his freshman year. Three years and many leadership roles later, he serves as the first international student to become SGA president in UMD history.
"Freshman year, I came to this country [and] it was a big cultural shift. I had to relearn an entire culture and be acclimated in it enough to actually function as a student, because it's pretty hard in general for freshmen to understand how campuses work—and then in a new country it's much harder," he said.
He immediately discovered how taxing the process of registering and functioning as an international student could be, and he searched for organizations that could help address student concerns. From there, he applied to become SGA's international student representative.
"I realized that I would like to change things in this process, and then I went about trying to find organizations that worked on these things more from a service perspective," he said. "I wanted the international student community involved in the larger student body."
Parashar then held the SGA roles of engineering student representative, speaker pro tempore, and speaker of the legislature before deciding to run for student body president. As a Computer Engineering major, he has also served as president of the engineering Dean's Student Advisory Committee (DSAC).
Approaching an election in which he would ultimately run uncontested, his decision to run for president stemmed not only from his hopes of increased international student involvement on campus, but from the events he's witnessed since arriving in the U.S.
"It was about a combination of a lot of factors," he said. "Last year was insane—COVID, and with all the racial injustices that were happening. I wanted to change things on the campus level, so I ran for it."
On his goals for the Student Government Association this year, he laughed, "The list just goes on." SGA's top priorities involve creating a mental health fee for the student body to increase counseling availability and mental health resources, especially after the pandemic. Sexual misconduct prevention initiatives and capping the annual increase of rent on campus are also on the list.
"My favorite part about being involved in student leadership is just the plethora of opportunities I get, especially as student body president," he said. "When I was a freshman, talking to the student body president was such a big deal… and now I'm meeting regularly with the university administration, having conversations at a higher level with government [representatives]. All these conversations are part of my student leadership position."
Parashar pointed to UMD president Darryll Pines' recent announcement on the installation of five university cultural centers in the old Cole Field House, an initiative that Parashar was able to make a priority upon becoming SGA president.
"It's things like this, when you see concrete change, that you have worked on and that you have made, it's helping other students even beyond your years," he said. "There are so many things that I felt were not being [heard], and now I have the power—slash avenue—to fix it."
After graduating in May, Parashar intends to work in tech consulting, a field that his student leadership opportunities have inspired him to pursue. While applying his computer engineering background, he looks forward to continuing to interact with others in ways he does now.
"SGA's role has helped me a lot, because at some point I was pursuing to be a software engineer, and I like the fact that I get to interact with so many people all the time… being in engineering isn't always like that," he said. "So I asked around for opportunities beyond it and [with] tech consultancies, opportunities pop up where I get to do the tech work, I get to do the coding still—and then I do an interesting job where I get to work with clients."
Above all, Parashar hopes that his contributions to the UMD community will have a lasting effect on the international student population, driving them to participate in campus organizations and make their concerns heard. After a hundred years since SGA was established, he pointed out, it's odd that he is the only international student that has served as its president.
"I think, as a university community, we lack international student involvement in our big leadership positions and in general. I think people need to engage the international community so much [more], that they feel comfortable enough to take on these leadership positions," he said. "The opportunities are out there, and it's time to go out there and take those."