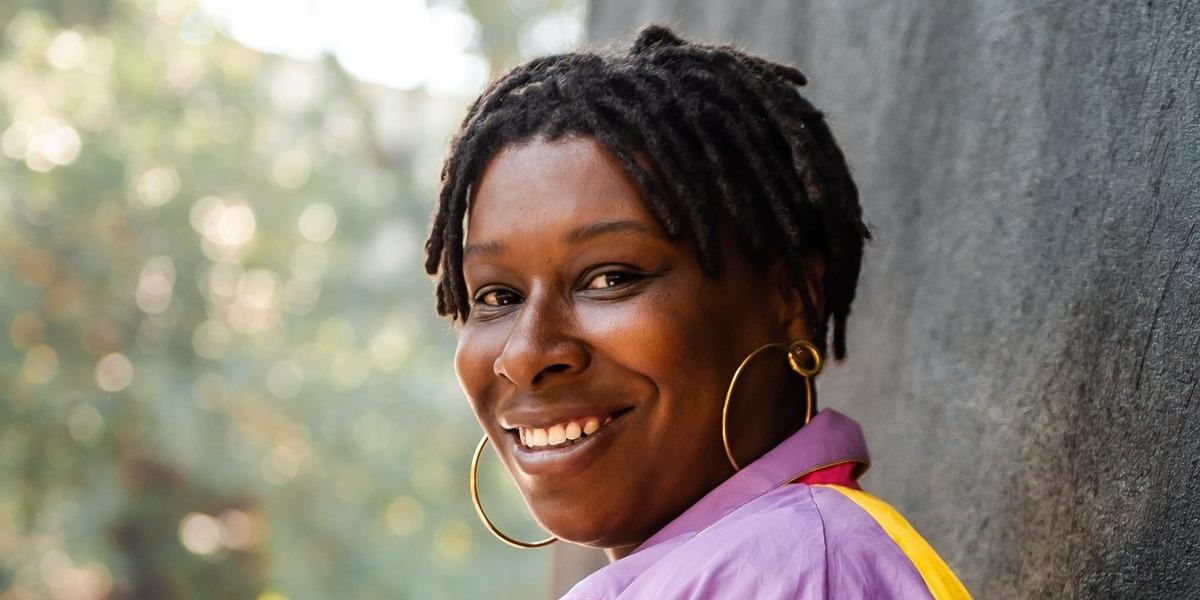 The sound is unmistakable—a grumbling putter followed by screeching breaks and a reluctant idle: the mailman is here, and Tiara Darnell '11 is running to her mailbox. In the carrier's hand is her gateway to the rest of the world, coming in the form of an international postcard from her father. Growing up in a military family is not without its challenges, but for Darnell, these childhood afternoons waiting for the postman were the origins of a global fascination that would take her all over the world. 
"And you know, having that feeling of like, well, I'm excited to get this postcard, but I can't wait til I'm the one sending him postcards—I think that was the beginning of it," said Darnell.
Now, Darnell is the one writing postcards from her new restaurant—Blaxicocina, which opened in 2023 as the first-and-only Soul Food restaurant in the area. The storefront is beautiful, the outside covered in hand-painted murals with vibrant colors, butcher block tables for patrons, and a floating shelf of Latin and American vinyls. If there is a place where two cultures meet to marry the best parts of themselves, it's here. And the locals are noticing. 
"I haven't heard anyone say anything negative, especially once they try the food," said Darnell.
Before she stepped into the role of restaurateur, Darnell, like many of the internationally oriented, amassed a portfolio of global experiences before she embarked on this long-haul journey to our southern neighbor. Are nomads born, or are they made? We'll let you decide. 
In elementary school, as her classmates poured over Pokemon cards and Furbies, Darnell was busy committing world countries, capitals, and leaders to memory. You could find her on her family's desktop, completely immersed in the capture of fictional jewel thieves through a CD-ROM copy of Where in the World is Carmen Sandiego? 
"That's what really sparked my interest in life beyond my cul de sac, beyond my city, beyond the U.S.," said Darnell. 
At UMD, Darnell studied 20th century world history with a minor in Spanish language and culture, and wasted no time getting globally involved on and off campus. She took up residence in the Spanish cluster of the Language House, a common thread for many of our global alumni. Additionally, she was involved in the Global Communities program (now known as Honors Global Communities), working and living closely with international students. Through Education Abroad, she traveled to Costa Rica and Israel, and took up a student worker position in their office. When she graduated, she side-stepped the traditional 9-5 pipeline and pivoted towards international service, spending the next two years in Morocco with the Peace Corps—a dream she's held onto since the eighth grade. It certainly doesn't hurt that historically, UMD has been a top-producer of Peace Corps volunteers, ranking fourth nationally in their 2020 top colleges list. 
"I had a social studies teacher who offhandedly made a comment about the Peace Corps…you know, I've never been sure of anything in my life, but I was sure after I heard her talk about it, that I was going to do the Peace Corps after college—and I did," said Darnell. 
Her identity as a traveler has remained constant (40 countries and counting), and when the world stood still in 2020, Darnell began to draft her U.S. exit strategy while working remotely. For all of us, the year stands out as one of turmoil, uncertainty, and ultimately, forced reset. This is especially true for Darnell, who joined the ranks of many other Black Americans leaving the U.S. as a part of the Black expat movement, seeking community and healing abroad—as she notes: "to be celebrated instead of tolerated." This desire to leave was compounded by the already steadily rising racial tension in the U.S. With George Floyd's death that summer, alongside the challenges of the pandemic, it proved to be the perfect storm for her relocation. Darnell clandestinely moved down to Mexico in March of 2021, and only planned to stay for about six months on a tourist visa. In the grand scheme of travel destinations, the country was always on her must-visit list, but there was no sense of immediate urgency to get down there. 
"I was always like, oh, well, if I had the opportunity to go to Thailand, I'm gonna go to Thailand because that's much further and harder to get to versus Mexico—I could pop down there at any time. So it's kind of funny that the thing that kind of kept Mexico in the waiting for me was the thing that made it appealing to me once I decided to get out of the U.S.," said Darnell.
While living in Mexico does not offer a total respite from racism, she notes that American exceptionalism applies to the racism that undercurrents Black American life. This palpable sense of relief upon departure is a feeling shared by other Black expats, many of whom now seek to equip others to do the same. These creators with "for us, by us" mindsets are crucial in empowering the next generation of Black travelers to establish lives on their own terms outside of the U.S., as a majority of relocation resources are generally catered to white audiences.
"I think that as a Black person from the U.S. I feel that my life is a lot easier, a lot more relaxed here [in Mexico]," said Darnell.
Just under one year into her Mexico residency, another forced reset propelled her into another major life change—Darnell and her entire team were laid off in a move that she calls on her LinkedIn page, "shocking, but not surprising." As it goes for best laid plans, Darnell's introduction to Mexico and long-term living abroad began one way and ended up in another. Yet, her decision to stay full-time was not a difficult one. In the face of an unexpected job loss, many might crumble, or feel insecure in their choice to leave the U.S., but for Darnell, the universe was pushing her towards something better—something that in many ways, she was meant to do all along.
"When I got laid off, I wasn't immediately having to look for a job because I had six months of savings to float on," said Darnell, on the advantageous planning that supported this pivot.
In the nearly three years since her initial relocation, Darnell has fully immersed herself in the local Mexico City community by re-enrolling in Spanish language classes at the country's national university, Universidad Nacional Autónoma de México (UNAM) and taking the time to get to know the city beyond a tourist level. It's the intentionality behind and the belief in mutual partnerships abroad that positions Darnell as a shining example of what we espouse here at Maryland Global. She notes that as a foreigner, contributing to the gentrification is inevitable. In light of this, maintaining a mindful and respectful approach to business operation is a top priority for her.  
"I'm very aware of the impact that my desire to open this business can have. And if I'm going to do that it's important to me to take part in the community and not just take from it," said Darnell.
Another element that's central to her mutual partnership philosophy is to conduct broader outreach to introduce and educate Mexican nationals on the nuanced and little-known history of Black Americans in Mexico—in addition to the country's own Afro-Mexican history and heritage. Using the "Southern Underground Railroad", thousands of enslaved and formerly enslaved Black Americans found freedom south of the border. Slavery was abolished in Mexico in 1829—nearly 40 years before it was in the United States. Darnell views the Black and Mexican communities as having more in common than they do apart, and connecting through food is one of many ways to foster mutual respect and understanding between the two cultures. 
"There's a lot of shared history there. We're all North Americans. We have some similarities in our culture," said Darnell.
Initially, she was hesitant to monetize her cooking over concerns that it would lose its place as a passion project. While Darnell acknowledges that a cautious attitude can be useful, she notes that a fear of failure could be inhibiting some from finding a venture that they genuinely love. Her advice? Baby steps. Have a plan. Blaxicocina didn't happen overnight. In the early days of her post-layoff life in Mexico City, Darnell began hosting Soul Food Sunday pop-ups from the rooftop of her apartment. These early pop-ups focused on community building in her area, and they informed the menu for what would later become Blaxicocina. 
The Blaxicocina concept today is rooted in Black American culinary tradition. It's Mexican influenced Soul Food, frequently incorporating traditional Mexican ingredients and in the case of fusion dishes, Mexican flavors and cooking techniques. This can be seen through dishes like Alitas Buffalo Al Pastor (chicken wings) dipped in a mix of Buffalo sauce and adobo al pastor—the famous marinade used to flavor Mexico City's al pastor tacos. Another classic, collard greens, is on the menu thanks to a collaboration between Darnell and a local farmer who started growing heritage collard green seeds Darnell brought back from the U.S. For dessert, Google reviewers are particularly taken with the carrot cake, made in a nostalgic style by a local baker friend of Darnell's. 
As an established freelance and now formerly corporate podcaster, Darnell pivoting into the restaurant business may appear to some as a hard shift—but for her, it's simply an extension of her deep love of storytelling.
"I am working toward telling a story and creating a story of the Black American experience here in Mexico City through this food—and that's beautiful to me," said Darnell. 
This unflinching creativity is a direct result of a perspective that looks outside of what's familiar and leaning into the unknown. Darnell has spent her career building off the wisdom she acquired from taking in all that the world has to offer, including during her experiences in  Education Abroad programs during undergrad, as well as during her own nomadic adventures. It's certain that global learning lights the fire for us to move boldly in our own lives. 
If you are interested in long-term living abroad, whether that be through fellowship, exchange, or service, Darnell recommends identifying your motivations for going abroad before making the leap. Are you looking for self-discovery? Cultural engagement? How do you plan to approach your time overseas? Mistakes abroad are inevitable, but a humble mindset will help you thrive in the face of cultural learning curves, and our advisors are here to help. Through virtual walk-in hours, Study Abroad 101 sessions, and more—we help empower globally minded students to bet on themselves and connect with different cultures from a place of authentic engagement.
"There's no downside to approaching a new culture with some humility," said Darnell. 
Fortune favors the fearless, and for Darnell, it's paid off in spades. From running to the mailbox to collect international postcards, to studying abroad twice, to serving with the Peace Corps, and now, her restaurant—global experiences are the backbone of not only the most accomplished nomads, but people. What's next for Darnell? We can say for certain that she will remain in Mexico for the foreseeable future as she continues to build her business. Despite this, her desire to take in as much of the world carries on, and she's not limiting herself to permanent residency. 
"I'm still gonna continue to go on as many trips as I can, when I can," said Darnell. 
To keep up with Tiara and her restaurant, you can follow Blaxicocina on Instagram.