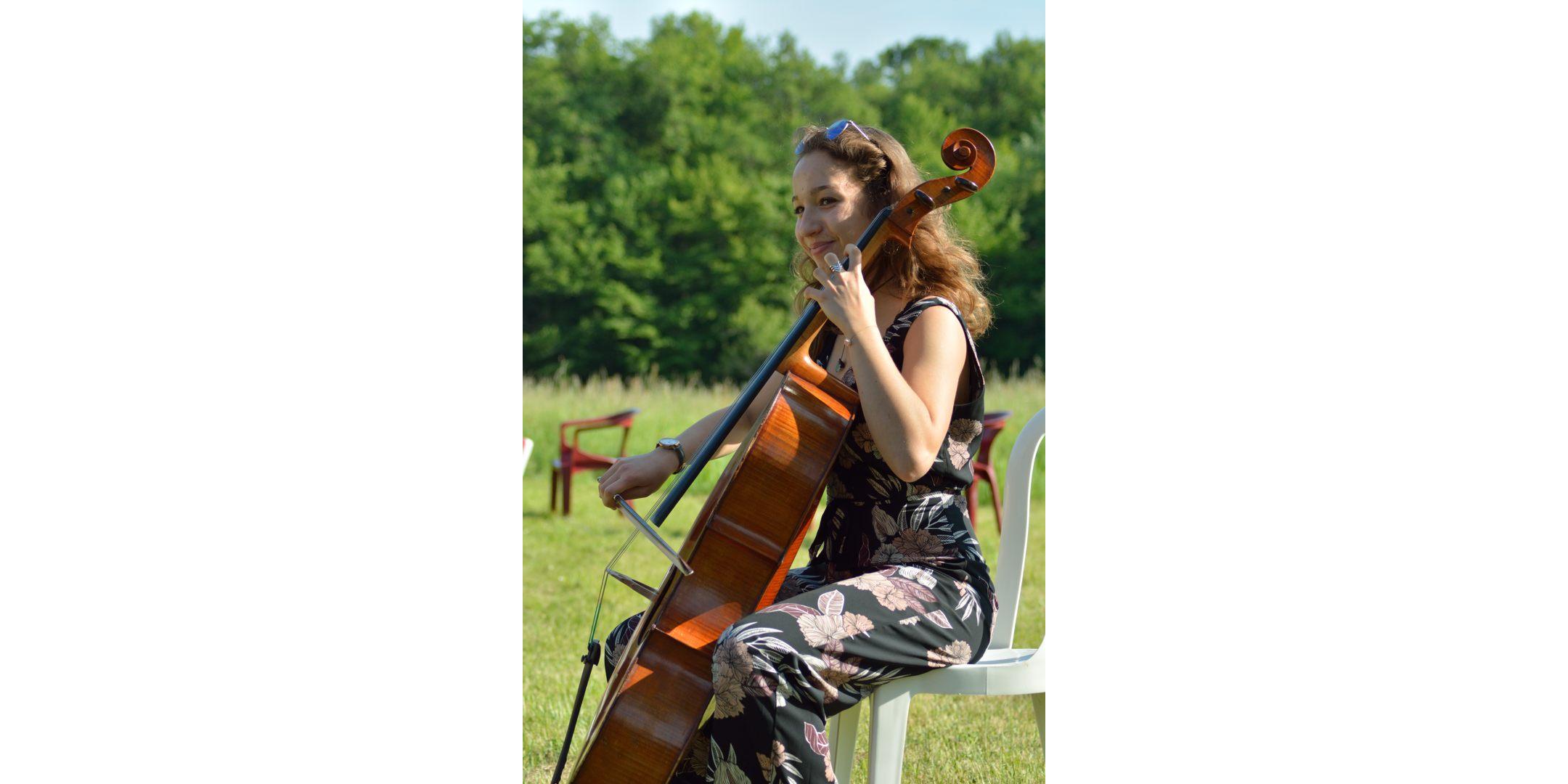 Finding community as an international student is no small feat, yet crucial to fostering a positive learning experience while abroad. Clémence Pautrat, a lifelong cellist and social sciences student from Sciences Po in Paris, began her search for a community that shared her musical passion months before she arrived on the University of Maryland campus this past fall.
"It was really hard. I remember starting to send emails to the School of Music like last March. I knew as soon as I was getting here, I wanted to play. I didn't want to stop playing cello for a year," said Pautrat.
Music is unique in its ability to communicate across language and cultural barriers; written sheet music is one of the few truly universal languages apart from mathematics. For Clémence, the communal aspect of playing music is the most rewarding, noting that she would have stopped playing many years ago if not for her ability to perform in an orchestra. Her introduction into the University Orchestra (UOrch) ahead of this spring semester has cemented her sense of belonging on campus. 
"Fall semester was a bit messy. I didn't have the time, it was rough. But then I was like, I really want to do this, so I'm going to keep pushing," said Pautrat.
UOrch is led by graduate students of the conducting studio, and is entirely composed of students outside of music degree programs. As the only international member, Clémence joins the ranks of other Terps who diversify their education through the pursuit of music. Her experience with the other orchestra members has been nothing but positive, particularly among the other cellists. 
For prospective incoming and outgoing exchange students, finding a community overseas requires proactivity and persistence. Whether you're an artist, athlete, or academic, feeling truly at home wherever you are is much easier when you feel understood by others who share your interests. 
For local UMD students, investing in the different communities on this campus outside of your own school, college, or nationality gives you invaluable perspective, and it can start by connecting with international students. Without a shared extracurricular or academic interest, bridging the gap between international and local students can be challenging. When asked about her view in how we can create a more inclusive community on campus, Clémence had this to say: 
"I think that one very simple but effective solution is to mix people in their housing assignments. In my suite we're six girls, half American and half exchange, and I think that's an amazing way to connect the two worlds," said Pautrat.
Other opportunities for gaining this cross-cultural perspective and global connection can be found by stopping by International Student & Scholar Services' regular International Coffee Hours, or by enrolling in a UMD Global Classrooms course that connects students with peers at international institutions. 
From the beginning, Clémence knew she wanted to go abroad to an English-speaking country, and it was important to her to be able to incorporate her passion for music with her academic focus in environmental science and public policy through the Environmental Science and Policy Program (ENSP). In France, the integration between one's artistic pursuits and academic disciplines are not as encouraged. There is something unique about the American university that offers a holistic view to education, that what one does for themselves outside of class is just as important as what they study.
"In France, one university teaches one thing. I'm from a social science university where you can only do social sciences…I can't end up in a class where you have like an econ major, and that major, and that major, like that doesn't exist. It's more compartmentalized than the U.S. is," said Pautrat. 
UMD has a well-deserved reputation for its prestigious STEM programs, with U.S. News and World Report ranking engineering master's programs in the top 20 nationwide. The global position of UMD is just as impressive; the Shanghai Ranking, a popular tool for incoming international students, places UMD in the top 50 research universities in the world.
Yet, what sets UMD apart on the world stage is its commitment to encourage students to be fearless and multifaceted—our students don't have to choose between their degree and what moves them.
For incoming and outgoing STEM students, studying abroad is something that can be difficult to plan for, especially if you have interests in traveling and culture that aren't necessarily a part of the set curriculum. However, with the development of programs like Clark in Madrid or Budapest Semesters in Mathematics, STEM students are able to diversify their education through new and exciting programs with our partner institutions all around the world. This perspective that emphasizes a multidisciplinary and multi-passionate approach to achieving individual and collective wellbeing has been codified into UMD's mission of fostering a community that is empowered and open to growth, and we can see it take shape in our students on campus and abroad.
On March 7, Clémence will perform with UOrch at The Clarice Performing Arts Center, and again on May 9 ahead of her departure this summer. Her presence serves as a reminder that your education is entirely your own, and that we owe it to ourselves to be intentional in pursuing our passions, and finding our people along the way. 
Are you an international student who's found community on-campus? We want to hear from you! Share your story with us by sending them to international-info@umd.edu.