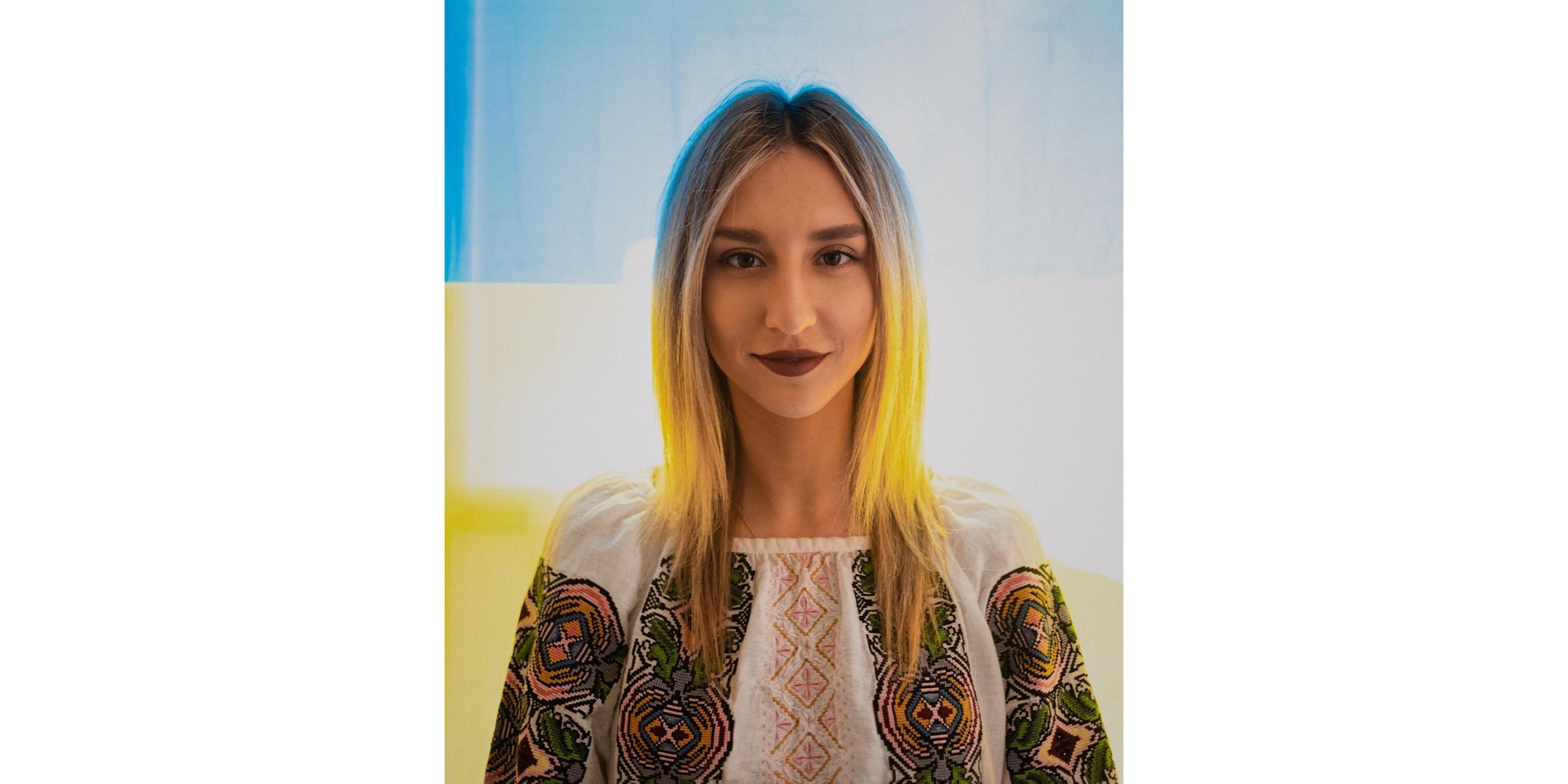 On February 24, 2022, the world watched with bated breath as Russia invaded Ukraine. In the year since, we've witnessed the continued resiliency of the Ukrainian people in real time. For the American college student, it can be difficult to grasp the scope of the war in Ukraine from overseas. However, UMD, as a globally-minded institution with a significant international student population, was quick to provide support to those who had been affected by the war, here and abroad.   
Tetiana Tytko, a third-year Ph.D. student, founded the Ukrainian Student Association days after the war began as a means to connect with other Ukrainian students on campus. She moved to the United States in 2018 for her masters and doctoral programs, but since the invasion, she has not been able to return to Ukraine, where her family and friends continue to reside. All air traffic remains suspended under martial law, and without a valid passport, no entry by land is permitted. It is an unimaginable situation to consider from the insular position of a college campus in America, and particularly devastating to Ukrainian students on campus who are forced to watch powerlessly as their homes and communities are destroyed. 
When the unthinkable happens, the first thing we tend to do is reach out for the people who share the same burden of grief and loss. Tytko connected with four other Ukrainians when she moved to College Park during the pandemic, but after the war began, she began searching for other Ukrainian students on campus—something that would have been a massive undertaking, if not for the well-timed assistance from International Students and Scholar Services (ISSS). 
"I reached out to ISSS and I asked them how many international students from Ukraine there were at the time. They couldn't give me their personal information, however, they said just send us a short paragraph of who you are, and that you would like to meet others," said Tytko.
The first gathering that ISSS and Tytko organized was on the first day of the invasion during an International Coffee Hour, dedicated to discussing the war, what it meant, and how to move forward. Students of other nationalities rallied around Tytko that day to express their condolences and shock about what was unfolding overseas. Besides Tytko, only one other Ukrainian student was present that day, but this coffee hour and the days that followed set into motion the beginnings of the UMD Ukrainian Student Association. While checking the unofficial UMD Reddit page, Tytko came across a posting from a first-generation domestic student with Ukrainian parents, seeking other Ukrainians to lean on. 
"We've come a long way to finally getting registered as the Ukrainian Student Association, but before that, what we did was just create a chat on GroupMe," said Tytko.
This group chat, starting with ten members, rapidly multiplied in size and three months later, the Ukrainian Student Association was formally registered with the university. Despite the fact that there are less than twenty students and faculty on campus from Ukraine, many members have parents of Ukrainian descent. Moreover, Tytko shared that she was surprised by the amount of students and staff who have no immediate ties to Ukraine, but were still interested in providing support.
Before the formal invasion last February, Russia had occupied the eastern part of Ukraine and Crimea as a part of the Russo-Ukrainian war ongoing since 2014, which received limited coverage from American news outlets. When Russia invaded Ukraine last February, Tytko feared that the conflict would continue to go unnoticed by her American peers. 
"The war in Ukraine started nine years ago. It's a full scale war right now, but at that time they only occupied the eastern part of Ukraine and Crimea. So I thought that this time it would be exactly the same way, like oh it would be in the news, but the actual support that Ukraine got, that we as students from Ukraine got on campus—everything that happened was extremely surprising. That's what helped me overcome those first very destructive emotions," said Tytko. 
In addition to ISSS coordinating an international coffee hour, they partnered with the UMD Counseling Center to prioritize making mental health professionals available for Ukrainian students, individually and in group settings.
"In the first days and weeks of the war, ISSS and the UMD Counseling Center organized listening circles. That was again extremely helpful because I was going through emotions and feelings I could never ever prepare myself for," said Tytko.
And it wasn't only international organizations on campus that provided resources to those who had been affected by the war. In those first days after the invasion, Tytko received a call from UMPD informing her that the department had donated dozens of bulletproof vests to Ukraine, which sparked other police departments in Maryland to follow suit in donating resources for Ukrainians to fight back. Additionally, other Ukrainian Student Associations around the country have reached out to form connections with Tytko, including a general Ukrainian organization in Los Angeles and a reporter from the Washington Post. The positive response Tytko received was crucial in maintaining her momentum, and it goes to show that direct support has a strong ripple effect in moving others to action. Providing the resources to lift our students up so that they can spark meaningful change is a core tenet of the Fearlessly Forward strategic plan, and we can see it unfolding in the impassioned students standing up for democracy on the world's stage. The sentiment is unanimous: we will not forget.     
When asked what the domestic UMD student can do to support the Ukrainian cause, Tytko advocates for students to take the time to learn about the war and stay informed. In addition, she called out the importance of taking advantage of the democratic opportunities we are afforded as American citizens, such as writing to your representatives asking how they plan to support Ukraine. The Ukrainian Student Association holds events every month, and if you're not sure how to get involved, ask! Their dms are always open.
"In case they're not sure what to do, they can always reach out to us. We have our Instagram account, they can find us on Facebook—we even have our own website," said Tytko. 
Beyond supporting Ukraine's war efforts, Tytko shared that she looks forward to showcasing Ukrainian culture to the campus community through upcoming Ukrainian Awareness Days this fall semester. These awareness days seek to highlight the rich cultural practices and traditions of Ukraine through cooking classes, concerts, language workshops, and more. Out of the darkness, the resiliency of the Ukrainian people continues to inspire change on campus. We owe it to them to keep the torch lit, for however long it takes.  
This spring, the Ukrainian Student Association will be participating in numerous events on and off campus. Be sure to stop by their table at the upcoming 25 Years of Maryland Day on April 29, 10 a.m. to 4 p.m. To round off the semester on May 5, they will join other cultural organizations on campus to fundraise for UNICEF during the International Night Market in the Baltimore room of STAMP from 6 to 9 p.m.